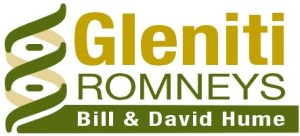 Gleniti Romneys are robust, easy-care sheep that have high fertility and high growth rate with good style medium wool.
In 1969 Bill took over the unregistered section of the Turanganui Flock at Gleniti and, with Holmes Warren's help and encouragement, fully recorded the flock from that time. Recording was initially with National Flock Recording, then with Sheeplan and now with Sheep Improvement Ltd.
After 46 years of recording there is high accuracy in the Breeding Values that have been generated by SIL. These Breeding Values are the basis of the Index that we have used for our selection that has identified the sheep with a balance of productive traits that gives the best return to those using our rams.
In recent years this balance of fertility, survival, growth rate and wool weight has brought the Gleniti Flock close to optimum levels. The ranking of our rams by Zoetis' "Sheep5K" is very similar to SIL's ranking. We are hopeful that the DNA analysis, while continuing to hold the benefits of our traditional selection, will make it possible to incorporate other benefits such as Longevity, Muscularity, Tenderness, Meat Distribution and FE Tolerance.
Our high stocking rate puts enough pressure on our sheep to identify those that don't thrive. Mothering ability is very important. Any ewe that doesn't stand with her lambs as we tag them is culled. This has resulted in quieter temperament, another aid to easy finishing and tenderness.
SIL Genetic Trends Graphs
Location
Contact Details
Bill Hume
Phone: 06 3077 847 | Mob: 027 4077 557
Email: w_hume@xtra.co.nz

David Hume
Phone: 06 3077 895 | Mob: 027 6898 934
Email: Sonya-david@xtra.co.nz